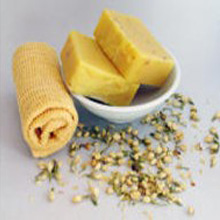 Homemade 100% Natural Facial Soap (Made in USA) 
Cleopatra's Luxurious Bathing Bar - the sweet smell of fragrant blooming Jasmine blossoms. No wonder the Queen of the Nile would soak in such a luxurious intoxicating scent. Loaded with mango butter, a handful of Jasmine Flowers & Ylang Ylang Essential Oil which smells similar to Jasmine, this 100% all natural homemade soap bar is sure to be a silky moisturizing favorite.
Ingredients: Saponified Coconut Oil, Soybean Oil, Olive Oil, Castor Oil, Sweet Almond Oil, Golden Jojoba Oil, Soybean Oil, Mango Butter, Jasmine Flower Petals, Ylang Ylang Essential Oil and French Yellow Clay. 5.5oz.