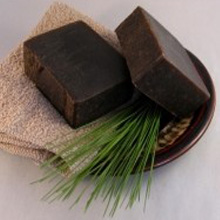 Homemade 100% Natural Facial Soap (Made in USA)
Pine Tar Bar – An Old Timer's favorite bar of soap and are growing in popularity as people discover just how great Pine Tar is to the skin. Delicately balanced with additional nourishing oils, this would be a great handmade soap bar for anyone.  Pine Tar can help slow the rapid proliferation of skin cells and restore the skin's appearance. In addition, Pine Tar can help reduce the inflammation, itching and scaling of psoriasis.  It also works great to reduce or remove dandruff and the associated itchy scalp.
Ingredients: Saponified Olive Oil, Pine Tar (20%), Coconut Oil, Castor Oil, Evening Primrose Oil & Avocado Oil. 5.5oz.